This is Global Svenska Plus – trusted by companies, parents, and students around the world.
Global Svenska Plus (GSP) mainly offers distance learning to Swedish-speaking International High School students, including International Baccalaureate (IB).
Our mission is to deliver the highest quality Swedish language education. We provide support to IB schools and corporations to ensure that the student's GSP credentials are recognized by universities and other institutions worldwide. Our interactions with students and others are always conducted with professional integrity and respect.
To support our mission, we work exclusively with experienced and certified teachers with specialized knowledge.
GSP programs and methods have proven to be highly successful, and we teach students attending leading international schools and universities across the globe via Zoom, Skype and other video conference tools.
Our strength lies in providing a comprehensive distance learning solution comprising clear instruction, targeted feedback, reading lists, contact with the school, and customized support in a multi-cultural environment.
GSP's focus is what is best for the student and you are always there for the student as well as the parents.
Linda Jansson, Tanzania
GSP also supports students with special reading and writing needs.
Our team consist of certified Swedish teachers with extensive international experience. New teachers go through a rigorous recruitment and mentoring process and GSP provides annual training to each teacher. They are all background checked, so you can feel safe online.
Most satisfied with the tailored homework to the student's specific needs. In addition, the lessons are of high quality and time is used efficiently, which adds substantial value to the knowledge and development of the language. The teacher is always open and willing to listen and make sure to provide relevant support and homework. It is distance learning and the communication is through Skype, which we were a little worried about, but it has proven to work fine! The syllabus is very well structured and solid.
Snezana Sazdic, New York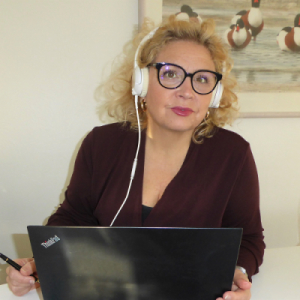 Global Svenska Plus (GSP) was founded in 2015 by Anna-Lena Olsson – an experienced school manager, consultant, IB-coordinator, international examiner and high school teacher.
Before moving to France in 2014, Anna-Lena was Head of the IB Department at a well-known international high school in Sweden. She has a Certificate of School Management and Leadership from Harvard University as well as a Swedish Master of Education in Swedish and English Literature.
Today, Anna-Lena Olsson leads the day-to-day work at Global Svenska Plus, but is also consulted by – for instance – the Swedish Ministry for Foreign Affairs, The Swedish International Development Cooperation Agency, and the IB organization. Moreover, Anna-Lena is member of the The Principals' Network at Harvard Graduate School of Education and manages professional development workshops for teachers.